Manu and "Petro" Place 2nd at DAC '22!
September 15, 2022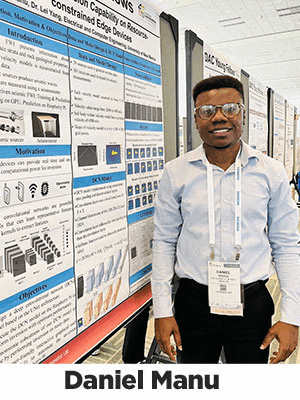 ECE Grad Students Daniel Manu and Petro Mushidi Tshakwanda won second place in the University Demonstration at the Design Automation Conference 2022 (DAC) in San Francisco July 10-14.
Three others also named on the award are Dr. Lin Youzuo (Staff Scientist at Los Alamos National Lab), Dr. Weiwen Jiang (Professor at George Mason University), and ECE Professor Lei Yang.
Dr. Yang is Manu's research advisor and Tshakwanda's co-advisor at ECE. Tshakwanda, or "Petro" as he is fondly known around ECE, also serves as the head of ECE's Information Technology network.  
Dr. Yang is active within the DAC community and wanted to give her graduate students a chance to submit their current work to its demonstration competition.
"The topic of our project was "Seismic waveform Inversion Capability on Resource-constrained Edge Devices," said Manu.
"In this project, we designed seismic imaging models to perform an inversion on edge devices, and this approach demonstrated the strong novelty of our work."  
There were over 20 submissions for the University Demonstration competition. Ten schools were selected as the finalists and were given a chance to demonstrate their projects at the DAC conference.
The ECE team went head-to-head against schools like the Georgia Institute of Technology and the University of Pittsburg. Their project was selected as the second-best demonstration project due to its novelty and performance.
"We have provided a great solution that helps data operators collect, visualize and perform inversion in real-time on the data being collected in the field: We achieved an inference inversion time of 20 seconds on the raspberry pi which is very small and practical," said Manu.
Please click this sentence to view the poster that details the team's research.
DAC provides outstanding training, education, exhibits, and excellent networking opportunities for designers, researchers, tool developers, and vendors.
DAC is a leader in artificial intelligence/machine learning, automotive, design services, design on the cloud, electronic design automation, embedded systems and software, intellectual property, and security/privacy.