Welcome to the ECE Graduate Programs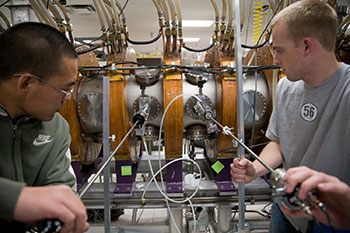 Internationally recognized for its excellence in research and education, the Electrical and Computer Engineering (ECE) department has 32 tenured/tenure-track faculty members and over 500 students. The ECE@UNM faculty pursues active research in a wide range of key strategic areas, including applied electromagnetics, photonics, and nanotechnology, communications and signal processing, biomedical -technologies, renewable energy, control systems, information systems, and networking systems. Many of our faculty are well-recognized in their fields, and the department is currently home to eight IEEE fellows.
Graduate students at ECE have access to state-of-the-art research facilities located in numerous research laboratories and large interdisciplinary centers.
The ECE Department is dedicated to improving life through discovery, education and innovation. We embrace an open culture and offer our students unique forward-looking curricula, low student-to-faculty ratios and highly talented and dedicated professors, instructors, and mentors. Our graduate courses cover a full breadth of areas, including core foundational topics as well as focused special offerings in the latest technologies.
Director of Graduate Programs
Dr. Mark Gilmore
Professor
Phone: 505-277-2579
Fax: 505-277-1439
Email: mgilmore@unm.edu
Graduate Admissions and Recruitment Chair
Dr. Eirini Eleni Tsiropoulou
Associate Professor
Phone: (505) 277-5501
Email: eirini@unm.edu
Academic Advisor
Carol Jimerson
Phone: (505) 277-2600
Email: carolj@unm.edu
Office Location: ECE 114 (Bldg 46)