Interactive Online Labs Shield Students from COVID-19
March 15, 2021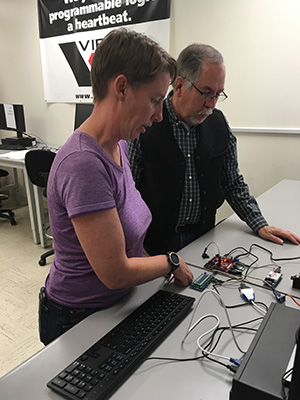 While most of us have been transforming our homes into quasi-offices, many of our ECE undergrads have been turning their living spaces into digital laboratories.
Before COVID-19 arrived, students who enrolled in the required "Computer Logic Design" and "Microprocessors" courses explored the inner workings of modern digital components within the confines of the ECE building.
But now that access to the ECE building has been sharply curtailed, some students are bringing this hardware circuitry home.
"The current configuration of the microprocessor lab is such that for the fall semester, we will be able to maintain social distancing in the lab and accommodate all the students who are currently registered," said Ed Nava, who teaches the Microprocessors Course (shown in the photo, at the ECE lab.)     
But since there are times when it just doesn't feel right to leave home, ECE wants to be sure all students won't miss a beat, should the Coronavirus rears its ugly head.  
And, since next Spring's enrollment tends to be considerably higher than this fall's, ECE wants to be certain that our department has its bases covered, no matter what the future brings: COVID-19 may have put some obstacles in our way, but it's not going to compromise the quality of the education that we give to our students!  
Learning by Doing
An intellectual understanding of a subject matter just doesn't cut it for Eric Hamke, who teaches the Computer Logic Design course at ECE and is pleased to know that students can experiment at home and reinforce their book-learning.
"Reading a book without actually implementing the concepts in the book is like learning to play a violin by reading a book," said Hamke.
"It turns out that electronic parts are not ideal and have variations in the way they are made. The "hands-on" allows students to get experience with these variations."
The Computer Logic Design course teaches students how to use design language to make functional computer components.
"The design language has nuances that are not always obvious," continued Hamke. "These nuances are the result of the optimization process that is applied by the Vivado programming environment used by the students. In a way, it would be like me learning to speak Russian without knowing any of the idioms or cultural knowledge that a native speaker would have."  
During this pandemic, ECE Professors have been teaching online using Zoom technology. But the addition of programmable circuitry into the mix is what has turned this class from being a simple meeting of minds into a laboratory of discovery.
This is not your father's Oldsmobile
A partnership between ECE and Diligent Technologies has brought FPGA circuitry into the labs. FPGA Stands for "Field-Programmable Gate Array." An FPGA is an integrated circuit that can be customized for a specific application. Unlike traditional CPUs, FGPAs are "field-programmable," meaning they can be configured by the user after manufacturing.
And, thanks to the resourcefulness of ECE students, there have been some novel, breakthrough moments lately.
"We have managed to interface with the ground robots and have driven them as part of a Zoom meeting!" said Hamke.
They say these are unchartered waters that we're sailing these days but one thing's for sure: When ECE students finally get their Bachelor's Degree, they're going to hit the ground running with a solid understanding of the theoretical, as well as the practical world of electronics — and that is a proven recipe for success.

(Editor's note: UNM pays for the components that our students borrow but students also have the option of buying their own sets of hardware so they can "play" with them after the class has been completed. Shown below are examples of the circuit boards that students can borrow from the department.)