Hollywood Salutes Nasir Ahmed
February 15, 2021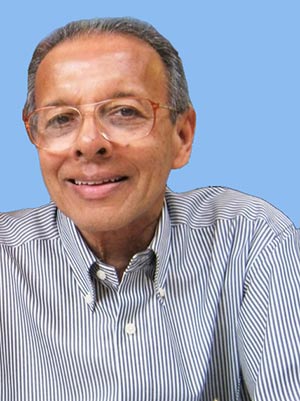 ECE Prof Emeritus Nasir Ahmed's development of the Discrete Cosine Transform (DCT) algorithm has been called one of the great inventions of the 20th Century. Now Hollywood wants everyone to know about it!
Ahmed's discovery that lead to widespread image and video transmission over the internet was dramatized in season 5, episode 8 of NBC's "This Is Us."  
Ahmed, 80, served as Chair of the ECE Dept from 1989 to 1994 and Interim Dean of The School of Engineering from 1994-96. 
He received his MS and Ph.D. degrees in Electrical & Computer Engineering from UNM in 1963 and 1966. His doctoral dissertation adviser was Dr. Shlomo Karni.
Ahmed was the Leading author of Orthogonal Transforms for Digital Signal Processing, Springer-Verlag (Berlin – Heidelberg – New York), 1975, with K.R. Rao; translated into Russian (1980) and Chinese (1979).
This was the first textbook that included the DCT, and one of the first to present a unified approach to using sinusoidal and non-sinusoidal orthogonal transforms for signal processing. 
Today we take streaming video as a given way of life, much as we took Hedy Lamarr's 1941 invention for frequency-hopping technology that lead to the secure wi-fi, GPS, and Bluetooth used by billions today.
And much like Heddy LaMarr and her recent documentary, Hollywood has brought Ahmed's invention, and his story, to life on our streaming home silver screens.
It would appear that even Ahmed was a bit surprised by the splash his discovery would make.
"Little did we realize that the Discrete Cosine Transform would be used in the future!" Ahmed said in reflection. "It is indeed gratifying to see that the DCT is now essentially a standard in the area of image data compression via transform coding techniques."
The producers neatly paid homage to Ahmed at the very end of the show, where they shared the following sequence:
(The episode ends with a picture of Ahmed and his wife, along with captions explaining the importance of his work, and the fact that producers spoke to the couple over video chat to get their story and incorporate it into the episode.)