NMTC Honors ECE Student
August 1, 2020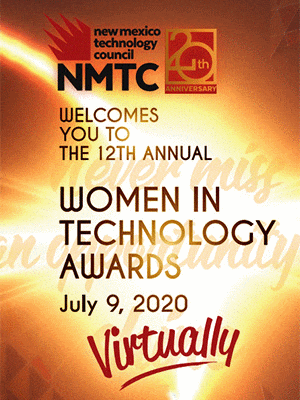 ECE Student Anna Janicek was awarded a $5K Scholarship from the Women in Technology Peer Group (a division of the New Mexico Technology Council) in a virtual ceremony held July 9.
Anna is a junior pursuing a BS in Electrical Engineering as well as a designation in Interdisciplinary Studies from the Honors College. She plans to concentrate in electromagnetics with an EE degree.
The New Mexico Technology Council is a member-driven association of businesses, organizations, and tech professionals working together to promote the growth and success of New Mexico's technology business sectors.
Anna currently works at AFRL for Leidos as a government contractor researching laser plasmas as a source of microwave radiation. And she volunteers in Dr. Edl Schamiloglu Pulsed Power research laboratory so that she can learn about microwave accelerators and simulating. 
Anna also has a second job with UNM's Communications and Marketing Department as a student blogger for the university's block "The Pack."
"I blog about my experiences as a Lobo including exploring New Mexico as an out-of-state student, participating in student organizations such as Society of Women Engineers, and balancing both my engineering and honors courses," said Janicek in a recent e-mail exchange.
"I do not necessarily see this as my future career, but it is a great motivation to not only write down my experiences in college but also get out and be involved in the campus community!"  
Anna learned about The New Mexico Technology Council, and its scholarships, through Elsa Castillo, who is the Scholarships Program Manager at Engineering Student Services at The School of Engineering.
"Truthfully, I applied to the scholarship thinking it would be a long shot, but the scholarship fit perfectly with my passion for encouraging women to pursue STEM.
"I have always been involved in STEM and it has been challenging at times to see how underrepresented women are in these fields, especially women who look like me," continued Janicek who will be serving as the new chapter president of UNM's Society of Women Engineers.
Anna feels strongly that attending UNM and ECE has provided her with unique opportunities to advance her career while still in school.
"With AFRL and SNL so close to campus, applicable technical experience through internships or the development of a strong, relevant professional network to use after graduation is very attainable.
"Not only am I learning topics in classes which are preparing me to become a capable engineer, but I also have the chance to directly apply what I learn in my courses to my government contract work."