ECE Offers HS Students Dual-Credit Courses
May 1, 2022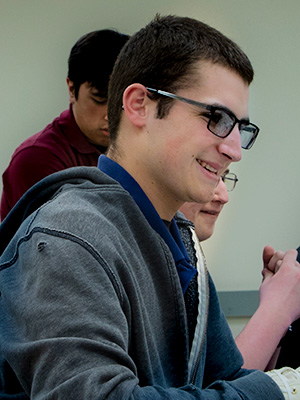 A new partnership between ECE and a local science, technology, engineering and math (STEM) charter school will allow high school students to earn UNM credit, giving them a head start on an engineering degree.
The pilot program, which began this semester, involves about a dozen students who are high school sophomores, juniors and seniors, said Paul Stephenson, founder and director of the ASK Academy, located in Rio Rancho. On Fridays, students board a UNM-sponsored bus at the school, which takes them to UNM for the course, which this semester is ECE 131: Programming Fundamentals, taught by David Crowley and supervised by Professor Marios Pattichis. Reiner Martens, department administrator for the Department of Electrical and Computer Engineering, is helping coordinate the implementation with the help of Stephenson.
ECE 131 teaches students the fundamentals of programming using the C programming language. It is a required course for all electrical engineering and computer engineering undergraduate students. Every Friday ASK Academy students attend lectures and lab associated with ECE 131. The special arrangement allows students to attend their regular courses on Monday-Thursday at the ASK Academy.
Students in the program earn both high school and UNM credit for the course, which Stephenson points out is the exact same course that university students are taking, not a modified course for high school students. Another bonus is that the course is tuition-free for students.
"The family pays nothing," he said.  
Stephenson said that the electrical and computer engineering department has been receptive to the idea of a partnership of this kind. Martens' efforts have been instrumental to bringing this idea to fruition. Stephenson said that he would like to extend this program to other departments in the UNM School of Engineering.
Michael Devetsikiotis, chair of the Department of Electrical and Computer Engineering, said this pilot program is a unique way to advertise what UNM and electrical and computer engineering has to offer — getting students on campus, in class and in the lab.
"This is a great opportunity to reach out into the community to form partnerships, identify local student talent, and create a pipeline to encourage students to pursue higher education, especially engineering at UNM," he said. "We are very proud that the department has spearheaded this exciting partnership and hope that it is the beginning of a robust program to recruit students to ECE."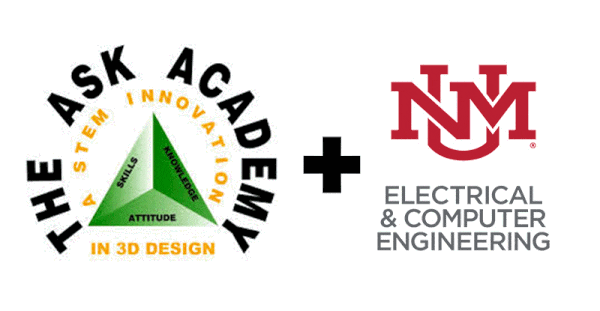 Stephenson said the program also is a boost to his school, which is less than a decade old, setting the school apart and demonstrating that students at the academy get a well-rounded education that encompasses more than traditional classroom learning that gives them a head start after high school.
"A lot of our students will be the first generation in their family to attend college, so for them to be able to attend UNM courses and be part of the campus environment is huge," he said. "It gets them acclimated to the college environment, and they even get a UNM ID card, so they feel like they are really a part of the campus."
For more information about the ASK Academy program for students or to inquire about partnerships with the school, contact Stephenson at pstephenson@theaskacademy.org. For more information about the possibility of dual-enrollment credits or to inquire about partnerships with electrical and computer engineering, contact martens@unm.edu.
This story was written by Kim Delker with photos by Rachel Whitt