Andrey Andreev Receives Third US Patent
April 1, 2021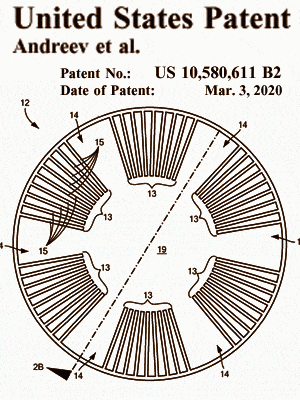 UNM Research Prof Dr. Andrey D. Andreev said he "got very unexpected, but surprisingly good news" when he was issued a US Patent last March. 
Andreev's Patent was issued under the title, "Rapid 3D prototyping and fabricating of slow-wave structures, including electromagnetic meta-material structures, for millimeter-wavelength and terahertz-frequency high-power vacuum electronic devices."
The patent describes a method for "fabricating slow-wave structures, including electromagnetic meta-material structures, for high-power slow-wave vacuum electronic devices operating in millimeter-wavelength (30 GHz-300 GHz) and terahertz-frequency (300 GHz and beyond) bands of the electromagnetic spectrum [is developed]."
Please click this sentence to view the patent
Andreev graduated with a Diploma in Physics, with a major in Plasma Physics, from the Tomsk State University, USSR, in 1990.  
He was then employed by the Institute of High-Current Electronics, Theoretical Laboratory, Tomsk, USSR/Russia and the D.V.Efremov Institute of Electrophysical Apparatus, Department of High-Current Accelerators, St. Petersburg, Russia.
Andreev was admitted for graduate education by the University of New Mexico (UNM) in 2003 and received his Ph.D. degree in Electrical Engineering, with a major in Applied Electromagnetics in 2007 with his thesis title "Methods to produce short-pulse high-power microwaves."  
Since receiving his Ph.D., Andreev has been actively working with some of the shining stars in high-power microwave technology, like the Air Force Research Labs as the Post-Doctoral Appointee from 2008 to 2011,  Raytheon Missile Systems as the High-power Microwave Physicist from 2011 to 2016, Booz Allen Hamilton as the Directed Energy System Engineer from 2016 to 2018, and Confluent Sciences as the Research Scientist from 2018 to 2020.
Throughout all this, he has maintained a steady, masked presence in his tiny office located deep in the basement of the ECE building. He is now part of an interdisciplinary team of scientists and researchers led by ECE Professor Edl Schamiloglu, that studies pulsed power-driven high-power microwave sources.
This is not Andreev's first patent.
Andreev was issued a patent in 2011 called "Metamaterial cathodes in multi-cavity magnetrons." 
And in 2017 he was issued the Patent "Axial strapping of a multi-core (cascaded) magnetron."
ECE congratulates "Andrey" on his recent accomplishment and looks forward to what he will come up with next.
Click the graphic below to view the patent! (This view is directly from The US Patent Office!)