Schamiloglu Appointed ADR of SOE
August 15, 2017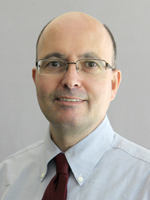 Dean Christodoulou announced the appointment of Dr. Edl Schamiloglu, Distinguished Professor of ECE, as Associate Dean for Research in the School of Engineering.
During his 30+ years at UNM Schamiloglu has been PI on over $32M of sponsored research, including 4 MURI grants, 10 DURIP grants, and a recently awarded AFOSR/AFRL Center of Excellence on the Science of Electronics in Extreme Electromagnetics.
"With his strong research record, experience as Director of COSMIAC, and rotation in UNM Administration as an Academic Leadership Academy Fellow, Professor Schamiloglu is prepared for the responsibilities of the ADR for SOE," said Christodoulou.
Among his many accolades, Professor Schamiloglu was elected Fellow of the IEEE in 2002, he received a Commemorative Medal from AFOSR as one of 12 invited lecturers in AFOSR's 60th Anniversary Speaker Series in 2012, he received the IEEE Nuclear and Plasma Sciences Society's (NPSS's) 2012 Richard F. Shea Distinguished Member Award, and he received the 2015 IEEE NPSS PPST Peter Haas Award. 
Highlights of Professor Schamiloglu's service include being Member and Chair of the High Power Microwave Subpanel, National Academy of Sciences Committee on Directed Energy Testing (2003-2004); Founding Senior Editor for Pulsed Power Science and Technology, IEEE Transactions on Plasma Science (2007-2012); Member, External Advisory Board for Sandia National Laboratories' Radiation Effects/High Energy Density Science Foundation (2015-present).
Schamiloglu was also Member, AFRL/RD Directorate Technology Council's High Energy Density Plasma Physics Review Board (2015-present); Member, Board of Visitors for the Army's Extramural Basic Research Program in Electronics (2016-present); Chair, International Electrotechnical Commission's SC77C on High Power Transient Phenomena (2016-present); and Founding Member, Matter and Radiation at Extremes Editorial Board (2016-present).
"Professor Schamiloglu is well-positioned to lead the School's research enterprise. I look forward to working closely with him to help advance the School's research agenda," said Christodoulou.