ECE MS Online Program Ranked Most Affordable
ECE MS Online Program Ranked Most Affordable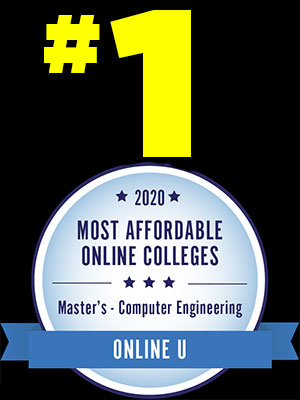 ECE's Master of Science in the Internet of Things Programs was ranked as "#1 Most Affordable" in a 2020 study conducted by Online U. Furthermore: Our MS in Space Systems online program ranked as #2!
But the good news doesn't end there!  
"Our graduate programs have jumped up several positions in the brand new US News and World Report rankings for graduate schools!" said ECE Department Chair Michael Devetsikiotis.
Click for an Overview of our Online Options!
Read A Brief, Informative Message to Our Prospective Students!
The EE program rose 18 positions from #72 to #54 nationally in the 2020 US News and World Report Rankings and its Computer Engineering Program rose 12 positions, from #73 to #51. About half the schools in those rankings are private.
"Some folks also like to mention rankings among public schools," continued Devetsikiotis "EE would be ranked at about #34 among public schools if you removed all the private ones."    
2020 Most Affordable Online Master's in Computer Engineering 
On March 23, 2020, The School of Engineering was told that ECE had been ranked #1 by Online U as the most affordable college for its Online Master's in Computer Engineering/Internet of Things Programs: That's #1 in a field of over 1000 online Master's programs.
OnlineU is a free and comprehensive guide that enables students to compare all online, regionally accredited colleges in the U.S.
"I want to thank the ECE faculty for producing the Managed Online Program courses," said Marios Pattichis, Associate Chair and Director of Online Classes and advisor to all online students at ECE.
"For Computer Engineering, we offer courses in the Internet of Things, Cloud Computing, Hardware-software codesign, Hardware security, Cybersecurity, Networking, and Machine Learning," said Pattichis.
ECE offers an online Ms in Computer Engineering - Internet of Things for only $6,136 per year.
Please click here to begin your #1 affordable online journey!