Aulbach: 1st Online MS in Space Sys Engineering
Aulbach: 1st Online MS in Space Sys Engineering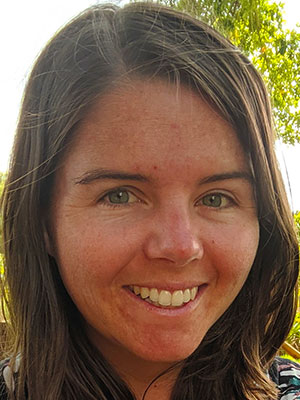 Maggie Aulbach became the first person at ECE ever to earn an online Master's Degree in Space Systems Engineering, just when SpaceX was attempting to become the first private company to fly humans into orbit.
The ECE online program in Space Systems engineering that Aulbach was enrolled in is an interdisciplinary collaboration between the Departments of Mechanical Engineering and Electrical and Computer Engineering.  
Students are required to take courses in Spacecraft design, Spacecraft Attitude Dynamics and Control, Orbital Mechanics, Space Situational Awareness, and Satellite Communications.    
Students can then choose courses from Machine Learning, Cybersecurity, Hardware Orientated Security and Trust, Hardware/Software Codesign with FPGAs, Cloud Computing, Networking, and others. As a result, the graduates of the program can pursue careers in Aerospace, Electrical, or Computer Engineering.  
Aulbach, who is 30 years old, is employed as an electrical engineer at Sandia National Laboratories. She received her bachelor's in Biomedical Engineering at Texas A&M University as a full-time student.  
She worked in the industry for five years and then moved to Albuquerque for a job at Sandia National Labs where she decided to look at masters programs.   
"I had never taken an online class before UNM," said Aulbach. "I choose ECE at UNM because they offered an online program that I could do while working full time. Luckily, my job paid for the majority of my tuition."
As it turns out, on-line learning fit well into her complicated lifestyle.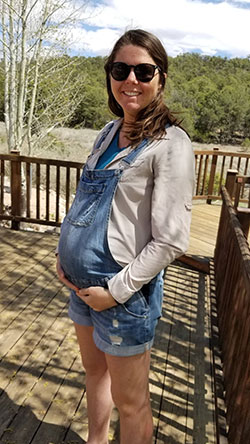 "I had my first child while in the Space Systems Engineering program," Aulbach said.
"I'm glad I had the flexibility to study and learn when it fit my schedule, even though it still took a lot of time management and organization.
"I was able to take a course during my maternity leave. It wouldn't have been possible if I had to go onto campus."
Although online learning had its advantages, it wasn't perfect. "The most difficult part of the online program is not having a strong relationship with your professors and classmates. It forced me to figure things out on my own or ask the professor over email."
Despite not attending a brick and mortar campus, Aulbach still managed to forge a strong academic online bond with a couple of her professors.
"My favorite professors were Dr. Hall and Dr. Lamb," Aulbach said. "I took several classes with both of them, and their classes built on the previous coursework. They shared a lot of their industry experience and made the classes very interesting."
Now that Aulbach has a Master's Degree, her future, like the SpaceX Falcon, appears to be taking off: A Master's Degree not only paves the way to a bigger salary, but it also opens the door to upper-level management.
But for now, Aulbach is ready to take a little breather, "I learned a lot in the program, but I'm glad to have free time again!"
Aulbach made a big impression on Marios Pattichis, Associate Chair of ECE, and also the director of ECE's online programs and an advisor to on-line students.
"I was very happy to see Maggie join our online program at ECE,' said Pattichis. "Maggie has stayed with us as we were putting together the different courses. She has provided invaluable feedback on our performance and she has managed to navigate through our successes and failures.
'We have made several corrections to our online programs based on her experiences," continued Pattichis. "As an example, we now encourage NM residents to choose from our wide variety of online synchronous courses that cost them about the same as the courses offered through our managed online programs."
Academics aside, Dr. Pattichis' was eager to mention one of the biggest pluses of online learning, "I am especially proud of the fact that Maggie completed our program while expecting and then caring for her baby!"

[Editor's Note: UNM is pleased to offer a new Master's online program in Space Systems Engineering. This program is one of the first master's level space systems engineering programs in the country. The Space Systems Engineering concentration was developed with input from the Air Force Research Laboratory (AFRL) Space Vehicles Directorate to provide graduates with the advanced skills to further their careers in the aerospace industry. All courses for the Space Systems Engineering Managed Online Program are offered in an 8-week format.]

Please click this sentence to visit the online Space Systems Engineering portal.