Eirini Eleni Tsiropoulou Chairs Networking Symposium in IEEE FNWF
Eirini Eleni Tsiropoulou Chairs Networking Symposium in IEEE FNWF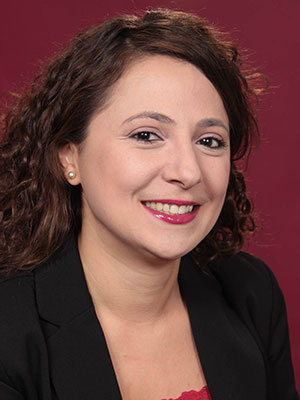 ECE Prof. Eirini Eleni Tsiropoulou will chair the Economics in Future Networking Symposium at the IEEE Future Networks World Forum 2023 in Baltimore, Maryland, November 13-15, 2023.
The 2023 IEEE Future Networks World Forum (FNWF'23)  continues down the path it set in 2018 at the IEEE 5G World Forum: Professionals from industry, academia, and research will gather to exchange their vision and discuss advancements in networking technology, including 5G, 6G, and other innovative cross-domain breakthroughs. 
"The opportunities for economic and social improvement that 6G and other networks offer have led to considerable investments in the related scientific and technological areas, surpassing what we have experienced so far," said Dr. Tsiropoulou, whose Symposium on Economics in Future Networking will address these issues and other issues.
The Future Networking paradigm, the proliferation of emerging networks and architectures, wireless access technologies and multi-homing smart devices are evolving towards a competitive environment, where users and devices have access to various resources, while their behaviors become strongly interdependent. 
Network Economics refers and affects not only the existing and future network topologies but also promote new disruptive technologies and/or network management and orchestration strategies that can offer efficiencies and deliver new revenues. The corresponding economic models will drive the deployment of enhanced networks and services in the future.
Network operation and logistics, including the burgeoning virtual networks and their implementation over shared physical infrastructures, are predicted to address and support diverse QoS requirements of network traffic, thus requiring new processes, algorithms, and architectures.
The study of existing and new economic mechanisms within the context of Future Networks is gaining increasing attention recently. In parallel, the recent advances in artificial intelligence, operations research, and economics have joined forces to tackle problems involving in future networks market design.
The design of strategic economic models, which have the potential of bridging the gap among the future networks heterogeneous entities' competitive goals, is of paramount importance in order to converge to operational market designs.  
Submissions are invited in, but not limited to, the following topics:
Algorithmic Game Theory
Algorithmic Mechanism Design
Auction Algorithms and Analysis
Behavioral Economics and Behavioral Modeling
Blockchain and Applications
Coalitions, Coordination, and Collective Action
Computational Aspects of Equilibria
Computational Social Choice
Contract Theory and Market Modeling
Econometrics, ML, and Data Science
Economic Aspects of Distributed Computing and Cryptocurrencies
Economic Aspects of Security and Privacy
Fairness and Trust in Games and Markets
Games in Networks
Learning in Future Networks
Learning in Markets and Mechanism Design
Learning under Strategic Behavior
Market Design
Network Advertising
Network Centrality
Network Economics
Peer Effects
Price Differentiation and Price Dynamics
Prospect-theoretic Network Modeling
Quality of Service/Quality of Experience and Resource Management
Risk Aware Resource Sharing
Revenue Management
Social Networks and Network Games
Strategic Marketing and Influence Maximization
Virtual Networking Economics
 All papers should be submitted via EDAS.
For more information, please refer to the official poster below: