Swarming Robots Excite Freshmen
August 20, 2018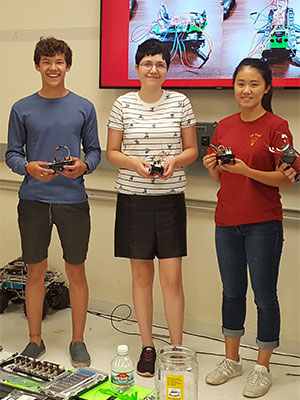 ECE Professor Rafael Fierro and his team of instructors led a "Swarm & Aerial Robotics: Learn to Command Swarms" event on Fri, Aug. 3 for undergraduate students and incoming freshmen.
Facilitated by STEM University, an out-of-classroom learning component within UNM's STEM Collaborative Center, students were provided ground robots — Kamigami robots — to understand Mobile Sensor Networks and Cooperative Control of Unmanned Vehicles and how these two systems work between ground and aerial robots — drones.
The Cooperative Control of Unmanned Vehicles can be used for many functions such as fighting forest fires, to cleaning up oil spills and performing critical search and rescue missions in hostile territory such as a battlefield or the site of a terrorist attack.
Students were excited to learn some coding and commands to manipulate the robots and gained an understanding of real-world applications of technology and research when watching robots communicate with drones in Dr. Fierro's Multi-Agent, Robotics, and Heterogeneous Systems (MARHES) lab.
Incoming Fall 2018 freshmen students, Isaac Garcia and Elexis Panas took advantage of this unique experience to learn more about their areas of interest. Isaac, pursuing Electrical Engineering, and Elexis, pursuing computer engineering, were excited about participating in this event and working with Dr. Fierro and his student lab team.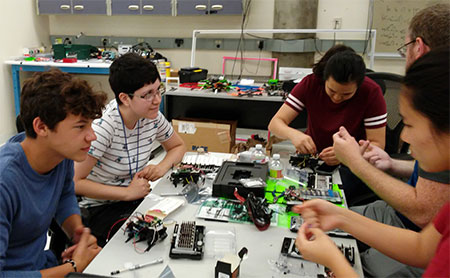 Dr. Fierro's team is made of Rebecca Kreitinger, Computer Engineering major and now working at AFRL; Timothy Martin and Yoo Jin Park, Electrical Engineering majors and MARHES STEM Outreach Coordinators; and Electrical Engineering Ph.D. student, Shakeeb Ahmad.
When asked how they felt about starting college, Isaac and Alexis' comments included excited, but nervous, and feeling intimidated. Both feel they are prepared for college and ready to gain the knowledge and skills needed for their academic and career pursuits.
When asked what they learned in this event, their comments focused on coding and its broad use, especially in communications and robots, and the role that research plays in problem-solving. Each agreed there are many resources to seek out at UNM to help advance their learning experience. Both students gave the event an A+.
To learn more about Dr. Fierro's lab, here's the link — https://marhes.unm.edu/ — and learn more about the STEM Collaborative Center and STEM University, here's the link — http://stem.unm.edu/
This story was written by Glenda Kodaseet