Josh Stewart Electrifies UNM Solar Team
June 25, 2016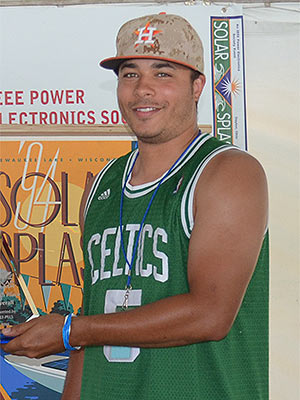 ECE graduate student Joshua Stewart helped UNM win First Place in Sportsmanship and Fourth Place in the overall category of the 23rd Annual Solar Splash held in Dayton, Ohio. Solar Splash® is the World Championship of Intercollegiate Solar/Electric boating.
Solar Splash took place June 15-19 when 13 University teams from throughout the United States competed to build the best solar-powered boat.
Stewart first learned about Solar Splash when members of the UNM team visited his photovoltaics class to give a presentation that explained the national competition. Typically teams spend at least a year working on a project but in this case, they only had one semester.
And, it turned out that UNM's Solar Splash team need Stewart's skills badly.
"They were all mechanical engineers, and they needed someone with electrical experience: I knew that I was going to join the team before they finished their presentation," said Stewart.
"I'm always up for a challenge. I realized that this was an opportunity to get hands-on experience with something that I'm passionate about."
Stewart is hoping to earn his Master's Degree in Electrical Engineering (EE) with a concentration in power and energy by fall of 2017. Then he plans to begin a Ph.D. in EE that focuses on power electronics. 
"Solar Splash" promotes engineering by fostering excellence through teamwork, problem-solving, and integrity around a relevant contemporary design challenge: improving the feasibility of solar energy.
The nine-member UNM team built a 14-foot boat, powered by solar-charged batteries and solar panels. The UNM team used their custom-designed solar panels which distinguished them from all the others, most of which were not homemade.
ECE Professor Jane Lehr mentored Joshua Stewart as did adjunct professors Jason Neely and Olga Lavrova. This year, the University of New Mexico (UNM) sent a "rookie team" to compete in Dayton, Ohio.  The lead electrical systems designer on this team was ECE's Graduate Student Intern Joshua Stewart.
"Josh selected and installed the electric drive and built a custom solar panel for their boat," said ECE adjunct professor Jason Neely of Sandia National Labs.
Awards were given for excellent hull design, drive system mechanics/electronics, solar panels configurations and auxiliary systems.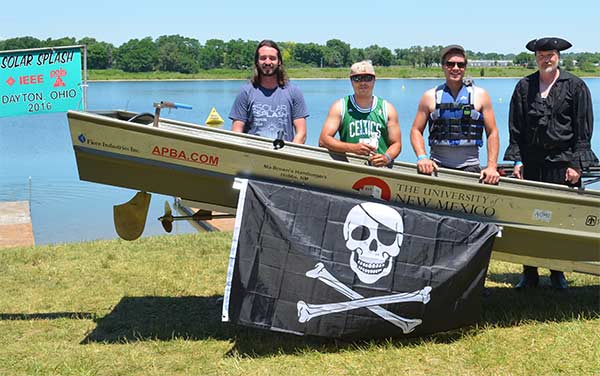 "The electrical engineers brought a lot of knowledge to the team," said Scott Garner, who just received a bachelor's degree in mechanical engineering and will be continuing for a master's at University of California, San Diego. "We couldn't have done it without ECE!"
In addition to building an outstanding solar boat, the participating teams also raced them in three competitive events: Sprint, Slalom, and Endurance.
Of the 13 teams, UNM placed 2nd in the Slalom competition, 4th overall and won the Sportsmanship award.  Out of five rookie teams, UNM was the top-scoring.  
The competition was held in Dayton, OH.
"It was a friendly but competitive environment filled with other engineers from schools like University of Arkansas and University of South Carolina. Even the University of Puerto Rico made it out!" said Stewart.
Stewart said he would like to see Splash grow at UNM, and is committed to contributing his skills to winning in 2017.
"We are building a multidisciplinary team with multiple groups working in parallel so that we can focus on various subsystems. This infrastructure will allow the 2017 team to set the bar even higher for the following year's team. 
"Solar Splash has been the best part of my university experience so far," said Stewart.
Check out this great story that our local TV station wrote about the winners!