"Fresh Box" Restaurant: ECE's New Neighbor
March 1, 2016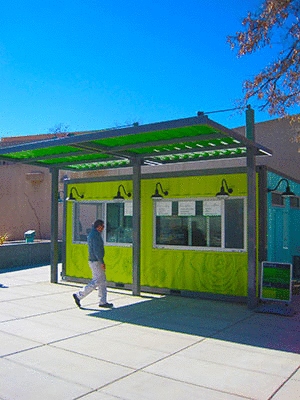 A shipping container-inspired restaurant called The Fresh Box opened on Monday, about 300 feet south from the doors of ECE. Their hours of operation are 8 am to 4 pm Monday-Friday.
Managed by Chartwells, the company that supplies food services to UNM, employees who are working out of this bright lime-green shipping container will be serving out healthy-sized portions of New Mexico-style food in the form of reasonably-priced burritos, bowls or tacos.
"We are excited to introduce our newest dining location in an innovative box format. Many of UNM's students, faculty, and staff spoke up about their need for a dining location on the South West side of campus, and we listened," said Paul Wilson-Scott, Resident District Manager of Chartwells.
Customers will be able to customize their meals by choosing a base of cilantro brown rice, Spanish rice or romaine lettuce. They also get the option of choosing a protein which can be either beef barbacoa, spicy chicken, carnitas or BBQ Vegan Meatballs.
"The Fresh Box, located near the engineering quad, will serve fresh-Mex favorites including breakfast burritos and build-your-own burritos and bowls. UNM Dining Club members can even use a meal swipe at this location. We are thrilled to be opening on Monday and we look forward to serving you!" said Candice Nanco, Chartwell's Director of Marketing.
Chartwells is a presence at hundreds of campuses in the US and this shipping container-inspired restaurant is the first one of its kind at any of its locations.