Meeko Oishi is New Regents' Lecturer
December 15, 2015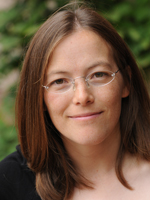 ECE Associate Professor Meeko Oishi was recently selected to become the next School of Engineering UNM Regents' Lecturer.
"This award represents a singular honor," said School of Engineering Dean Joseph Ceechi. "Dr. Oishi's selection was the result of a rigorous review of the nomination packages of a number of excellent candidates by the School of Engineering Leadership Council."
Dr. Oishi will retain the title of Regents' Lecturer throughout her career at UNM.
As a professor at ECE, Dr. Oishi is using her expertise in control theory to develop technologies to improve safety in human-in-the-loop cyber-physical systems and to characterize feedback mechanisms in the brain.