Physical Plant Helps to Solve Heated Problem
April 20, 2015 - Sydney Horne and Chuck Reuben
Members of the UNM Physical Plant pose beside ECE's new "Big Ass" Fan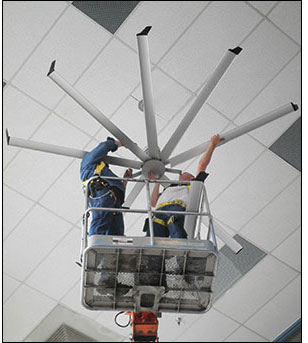 ECE students work hard and the department wants to give them a nice place to learn and study.
Thanks to the work of the UNM physical plant, ECE students will be more comfortable than ever.
"I learned a long time ago that civils only get complaints and never any compliments!" said ECE Chair Jane Lehr, who is eager to acknowledge the phenomenal work done by the physical plant.
Not only has the ECE building been extensively remodeled with new carpeting, new paint, new furniture and a new ventilation system but also a problem that has been plaguing the 30-year-old building has finally been solved.
"The problem we were facing in the winter," said building manager David Modisette, "was that the temperature at the bottom of the atrium would be 68 degrees and 88 degrees at the top.
"We could turn the heat up at the bottom but it would always rise to the top," he said.
Modisette recently mentioned this ongoing problem to the UNM physical plant and they suggested the use of a fan.
Anybody who has visited the ECE department knows that the three-story tall atrium is an enormous space so an ordinary fan would not work.
The Physical Plant turned to the Big Ass Fan Company (that's their real name) based in Lexington, Kentucky and they recommended investing in their Isis Ceiling fan.
With eight blades, each fin measures five feet for an overall diameter of 10 feet. With a sound level of only 35 decibels, the 88 pound fan can be barely heard by the students working far below.

"The fan is attached to the I-beams of the ceiling by two angle iron beams are about an inch wider than recommended and supported by additional safety cables," said Modisette.
The fan has speed and directional adjustment so that hot air can now be forced to circulate in the winter.  Five plastic gratings in the ceiling also help circulate the air.l safety cables," said Modisette.
"It's perfectly perpendicular and it doesn't wobble at all,"Modisette said, admiring the work of the physical plant. "This fan should make the atrium lobby much more comfortable for everybody."