New ECE Robots Dance in MARHES Labs
April 20, 2015 - Chuck Reuben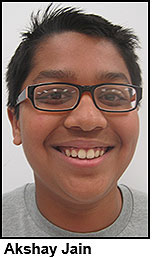 It's summertime and things have slowed down quite a bit at ECE. Most of our students are enjoying a well-deserved vacation as they prepare for another year of classes in the fall.
Summer school is underway and those students who wish to pursue their academic study are burning the midnight oil under the tutelage of some of UNM's best professors.
Our 29-year-old building, which suffered extreme flood damage last summer, has risen from the ashes like the legendary phoenix and boasts lots of new carpet, paint, furniture, air handlers, LED lighting, as well as a 10-foot-diameter "Big Ass Fan" which overlooks the atrium like the grand chandelier in the Phantom of the Opera.
Two interns from La Cueva High School can be found hard at work in the basement of ECE in in the MARHES Laboratory, contributing their youthful vigor to the department as they strive to come up with innovative solutions to some of the world's problems.
15-year-old Akshay Jain is working with Turtlebots (a low-cost personal robot) to design algorithms that allow multiple robots to work together to develop a single 3D-map of an area autonomously.
"I find opportunities like this to be outstanding and a great way to spend my free time. I feel very privileged to be working here," said Askhay
16-year-old Alex Cuellar is also working with his friend on the same project.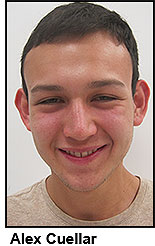 "It's not every day that a kid my age can work with professional equipment at a major, respected university," said Alex. "It's a once-in-a-lifetime opportunity that I will carry with me throughout the rest of my academic and career life."
In addition to employing young and promising high school students, Dr. Fierro has recently received a BAE Systems (Army Research Laboratory) grant supplement. The project title is "Exploiting Heterogeneity in Wireless Aerial and Ground Robotic Networks."
When I peeked into the doors of Fierro's laboratory I couldn't help but notice the presence of two enormous red robots.
"We just got the robots two weeks ago. There is not much to say about them right now," said Fierro somewhat impatiently. "My graduate student is just helping to make sure we got what we ordered and nothing was broken. Let's talk in the fall semester when we have a story to tell."
The graduate student, with Fierro's permission, demonstrated the dexterity of ECE's new robots by programming a performance of Latin Dance which is shown on the YouTube video at the top of this page.
And, if that's not a story that's just itching to be told, I don't know what is.