Student Organizations
​The Society of Women Engineers
http://swe.unm.edu/ ​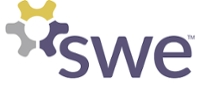 The Society of Women Engineers (SWE) is an organization that was created to help foster the growth, success, and advancement of women within STEM fields, as well as achieve recognition for the contributions already made to STEM fields by women. SWE aims to establish engineering (and all other STEM fields) as an extremely valid career choice for women through networking, outreach, scholarships, training programs, conferences, and more.
Eta Kappa Nu (HKN)
http://ieee.unm.edu/eta-kappa-nu-hkn/   Eta Kappa Nu (HKN) is the honor society of IEEE. Invitations to join are sent to high-achieving Juniors & Seniors based on their academic performance. HKN Chapter President: Lea Casper.
---
Engineers Without Borders UNM
http://ewb.unm.edu/ Engineers Without Borders USA builds a better world through engineering projects that empower communities to meet their basic human needs and equip leaders to solve the world's most pressing challenges.
---
Society of Enabled Engineers
The Society of Enabled Engineers (& STEM) Students is a student organization to help any disabled student (any major, diagnosed or self-diagnosed disability) overcome any obstacles imposed by their disability that would interfere with them successfully completing their educational goals at UNM. Contact Daniel Strones, DStrones@unm.edu, 505-440-0361 (text or call) for further information.
---
ECE Graduate Students Association
http://ece-gsa.unm.edu/   ECE GSA exists in order to assist electrical and computer engineering students in furthering their education through funding, meetings, and workshops. The group helps students with academic affairs in ECE, and is the voice of students in the department.
---
Hispanic Engineering & Science Organization
http://heso.unm.edu/   Since 1975, HESO has dedicated itself to promoting excellence in engineering, science and mathematics at the University of New Mexico.
---
UNM IEEE – Student Branch
http://ieee.unm.edu/  We are the student chapter of the Institute of Electrical & Electronics Engineers (IEEE) at the University of New Mexico. There are no more general meetings for this semester (meetings will resume in Fall 2019). Congratulations to our new officers! Good luck on finals!!!
---
UNM National Society of Black Engineers
http://nsbe.unm.edu/   At the UNM NSBE Collegiate Chapter our main focus is to give back to the community and to provide a good support system for our members to succeed in all of there academic and career goals.
---
Out in STEM (LGBTQA+)
https://www.facebook.com/unmostem      https://www.ostem.org/   The STEM Collaborative Center is supporting UNM's local student chapter of Out in Science, Technology, Engineering, and Mathematics (oSTEM)
---
Tau Beta Pi
Welcome to the ECE portal of Tau Beta Pi. Our contact is Alissa Perea, our president. And our website is https://tinyurl.com/tbp-unm. We also have a Facebook and an Instagram page! We look forward to meeting you!
---