David Modisette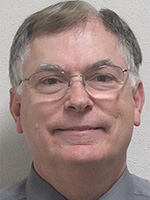 Sr. Engineering Lab Coordinator & Building Manager
Biography
An avid photographer, David Modisette has helped with work that has been published in National Geographic and Smithsonian Magazine. He worked as a caver and explored, photographed and mapped caves in Carlsbad Caverns National Park and in China and Malaysia, as well. 
"You'll regret what you didn't do more than what you did do," said David who spent time in Alaska exploring caves for the US Forest Service and was a member of the Albuquerque Mountain Rescue Team. 
David arrived at ECE June of 2010 and serves as the building manager and Senior Engineering Labs Coordinator, chemical and radiation safety officer. 
When he's not busy maintaining the ECE building, he also teaches students in the ECE 206L course entitled "Instrumentation." He is also the instructor of ECE 101, "Introduction to Electrical and Computer Engineering," an on-line course.