L Howard Pollard
Contact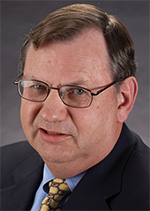 Professor Emeritus
Department of Electrical and Computer Engineering
Education
1983 PhD, Electrical Engineering, University of Illinois
1977 MSEE, Electrical Engineering, Utah State University
1971 BSEE, Electrical Engineering, Utah State University
Biography
Digital design, computer architecture, parallel processing, digital signal processing, multimedia learning, and programmable logic are Howard Pollard's research interests.
Dr. Pollard's work experience began at Utah State University, where he designed special purpose digital systems for control of interferometric equipment. He then joined the Systems Group at Reticon and designed digital systems for non-contact measurement and inspection. This was followed by several years at Lockheed Missiles and Space, where he honed his skills in digital electronics and computer systems, constructing systems that aided general-purpose computers to perform algorithms for defense applications. His doctoral work focused on fault-tolerant protocols for bus communications.Dr. Pollard teaches courses in digital design, computer design and operating related areas. He is the author of two textbooks: Computer Design and Architecture, 1990, and The Design Book: Techniques and Solutions for Digital Computer Systems, 1990. Dr. Pollard continues developing materials and techniques to bring the real world into the curriculum. In particular, he is developing materials to use readily available hardware platforms, combined with universityimplemented circuit boards, to help students to quickly assimilate the skills needed to use both microprocessors and embedded systems in solving interesting technical problems. These materials are also proving useful for course work in digital design and hardware description languages.
Currently his research is concentrated in the area of developing techniques and testing implementations for parallel processing organizations and communication methods (see MAPLD 2007, 2008). These projects have enabled measurements to catalog the effectiveness of a variety of techniques for extensible computer architectures.
Dr. Pollard has continued involvement with architectures that can be implemented in FPGAs for a variety of applications. Most recently is the development of a technique for managing data organization at high data rates and implementation of data windowing in real-time applications.
In addition to the algorithms, Dr. Pollard is working with others to develop a programmable system that can be used in space-based applications, using the FPGAs and general-purpose components specifically designed for radiation environments. These are packaged in an appropriately small system for doing the work required by specially developed algorithms.