Edward D. Graham
Contact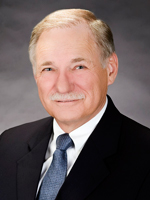 Emeritus
Department of Electrical and Computer Engineering
Education
PhD, North Carolina State University
MS EE, University of New Mexico
BS EE, Mississippi State University
Biography
With considerable experience in industry and research, Ed Graham is an invaluable resource to ECE's students and faculty. His research interests include semiconductor devices and circuits, noise theory, and statistical analysis and probabilistic considerations.
Dr. Graham worked at Sandia National Laboratories for 30 years, ultimately serving as director of Operations and Engineering. After Sandia, Dr. Graham served as president and CEO of the Semiconductor Industry Suppliers Association, and in 2001 he joined Semiconductor Equipment and Materials International as senior director for Consortia Interfaces. Currently Dr. Graham is a consultant to the global silicon manufacturing community.
Graham is a Registered Professional Engineer in the State of New Mexico and holder of an Amateur Extra Class radio license (N5HH). He teaches a number of varied courses in the ECE Department, including a new course in power systems.
Dr. Graham has authored two books, one on microwave transistors and one a study guide for those seeking professional registration in electrical and computer engineering.