Eirini  Eleni  Tsiropoulou
Contact
eirini@unm.edu
Phone: (505) 277-5501

Physical Address
Room 326B
Electrical & Computer Engineering (ECE)
Building # 46 on the UNM map

Mailing Address
MSC01 1100
1 University of New Mexico
Albuquerque, NM 87131-1070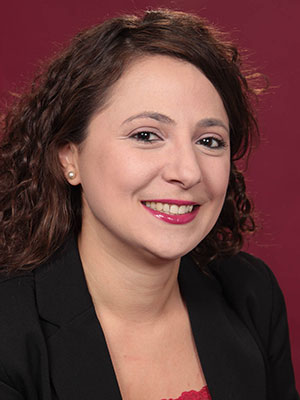 Associate Professor, Computer Engineering Area Chair & Director of Recruiting and Admissions
Department of Electrical and Computer Engineering
Personal Website
Curriculum Vitae
Education
PhD, Electrical & Computer Engineering, National Technical University of Athens, 2014
MBA, Electrical & Computer Engineering, National Technical University of Athens, 2010
Diploma, Electrical & Computer Engineering, National Technical University of Athens, 2008
Biography
Eirini Eleni Tsiropoulou is an Assistant Professor at the ECE Department at UNM since 2017. She received her Diploma degree, the MBA degree in techno-economics, and the Ph.D. degree in Electrical and Computer Engineering from the National Technical University of Athens, in 2008, 2010, and 2014, respectively.
Her main research interests lie in the area of 5G/6G networks and resource management in interdependent systems, with emphasis on optimization, game theory, network economics, reinforcement learning, and modeling humans' behavior.
She has received five Best Paper Awards at IEEE Wireless Communications and Networking Conference – IEEE WCNC in 2012, EAI International Conference on Ad Hoc Networks – ADHOCNETS in 2015, IEEE Wireless and Mobile Networking Conference – IEEE WMNC 2019, INFOCOM 2019 by the IEEE Communications Society Technical Committee on Communications Systems Integration and Modeling, and IEEE/ACM Conference on Blockchain Research & Applications for Innovative Networks and Services – IEEE/ACM BRAINS 2020.
Dr. Tsiropoulou was named by the IEEE Communication Society - N2Women as one of the top ten Rising Stars of 2017 in the communications and networking field. She received the NSF Computer and Information Science and Engineering (CISE) Research Initiation Initiative (CRII) Award in 2019 and the Early Career Award by the IEEE Communications Society Internet Technical Committee in 2019. Her research is funded by the National Science Foundation and the Sandia National Laboratories.
Teaching Interests
Computer Networks
Wireless Communications
Network Economics
Research Interests
Network Modeling and Optimization
Internet of Things
Cyber-Physical Systems