Ashwani  Kumar  Sharma
Contact
sharmaa@unm.edu
Phone: (505) 846-0165
Fax: (505) 846-2290

AFRL/RVSE, 3550 Aberdeen Avenue SE, Kirtland AFB NM, 87117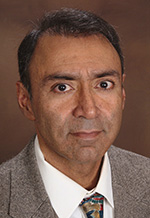 Lecturer
Department of Electrical and Computer Engineering
Education
Ph.D. Engineering, University of New Mexico, 2004
MS Electrical Engineering, University of New Mexico, 1994
BS Electrical Engineering, University of New Mexico, 1990
Biography
Dr. Sharma has been working for over 20-years in the areas of optoelectronics/electronics for satellite applications. This included research and development of semiconductor devices that would be minimally susceptible to the of the effects of high energy radiation (X-Rays and Gamma Rays) and high energy particles such as (Alfa particles and Beta Particles). For the past several years his focus has been on the development of nanoscale materials and devices for next generation of low-voltage, high-power, high optical sensitivity and high-speed applications for space satellites. In 2015 Dr. Sharma has co-authored a text book titled "Carbon-Based Electronics, Transistors and Interconnects at the Nanoscale, ISBN 978-981-4613-10-1. Dr. Sharma won the USAF Arthur S. Flaming Award in 2008 and the AFRL Best Publication Award in 2010.
Teaching Interests
Physics of semiconductor materials and devices
Microelectronics and optoelectronics fabrication
Semiconductor lasers and detectors
Research Interests
Physics of nanoscaling
Large-bandgap semiconductor devices
Next generation of ultra-low power consuming devices for satellite applications.