Xiang  Sun
Contact
sunxiang@unm.edu
Phone: (505) 277-1433

Physical Address
Room 224C
Electrical and Computer Engineering (ECE)
Building # 46 on the UNM map

Mailing Address
MSC01 1100
1 University of New Mexico
Albuquerque, NM 87131-1070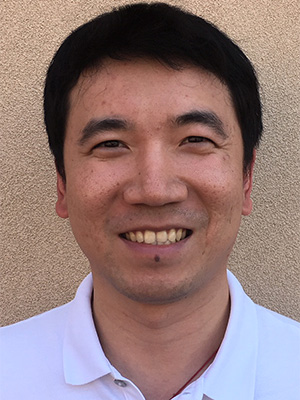 Assistant Professor
Department of Electrical and Computer Engineering
Personal Website
Curriculum Vitae
Education
Ph.D. Electrical Engineering, New Jersey Institute of Technology, May, 2018.
M.E. Computer Applications Technology, Hebei University of Engineering, June, 2011.
B.E. Electronic Information, Hebei University of Engineering, July, 2008.
Biography
Dr. Xiang Sun is currently an Assistant Professor with the Department of Electrical and Computer Engineering at the University of New Mexico. He received his Ph.D. degree in Electrical Engineering from New Jersey Institute of Technology (NIT) in 2018, and his M.E. and B.E. degrees both from Hebei University of Engineering in 2011 and 2008, respectively. His research interests include mobile edge computing, cloud computing, Internet of Things, wireless networks, big-data-driven networking, and green communications and computing. He has received several honors and awards, including NJIT Ross Fellowship 2014-2015, 2016 IEEE International Conference on Communications (ICC) Best Paper Award, 2017 IEEE Communications Letters Exemplary Reviewers Award, 2018 NJIT Hashimoto Price, and 2018 InterDigital Innovation Award on IoT Semantic Mashup.
Teaching Interests
Computer Operating Systems
Computer Networks
Wireless Communications
Research Interests
Mobile Edge Computing
Internet of Things
Drone-assisted Mobile Access Networks
Green computing and networking
Data center networks