Reesie Chavez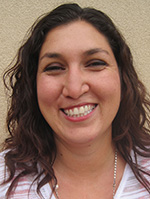 Accountant II
Biography
Reesie Chavez worked at College of Nursing for 2-1/2 years as an accountant II before arriving at ECE.

Reesie graduated from Andersen School of Management in 2007 with a Bachelor's Degree in Accounting.
She is an athlete who has completed several 10K runs in Albuquerque. She loves gardening and has four pet turtles.

Reesie grew up in Belen, New Mexico.