Vizzia IoT Lab focuses on the future of patient care, boosting partnerships
Vizzia IoT Lab focuses on the future of patient care, boosting partnerships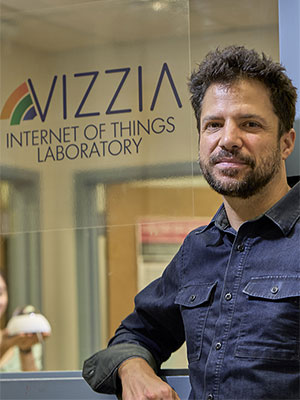 The Vizzia Internet of Things Lab occupies a modest space in the corner of the basement of the Electrical Engineering Building, but despite its hidden location, its mission is far-reaching.
The lab came into fruition in 2019, thanks to a gift from Andrew Halasz, who earned a bachelor's degree in mechanical engineering from UNM in 1981 and is the recipient of a 2020 Distinguished Alumni Award from the School of Engineering. He is the founder and CEO of Vizzia Technologies, a national healthcare technology business he started in 2005. The company helps healthcare organizations improve their operational efficiency and has helped hospitals save millions of dollars in expenses and improve patient care. Vizzia focuses on real-time location systems in healthcare, such as contact tracing, hospital wayfinding and environmental monitoring.
Last year, Vizzia was recognized as one of America's fastest-growing private companies on the "Inc. 5000" list for the third year in a row.  
Halasz said he had a great academic and personal experience at UNM, and in recent years, has been intrigued by the Department of Electrical and Computer Engineering's focus on the field of Internet of Things (IoT), led by professor and department head, Michael Devetsikiotis.
"Vizzia's focus on technologies like IoT sensors and providing the latest and most accurate technology to our customers is very complementary to the work that UNM is doing," Halasz said. "And with UNM now offering a master's degree in Internet of Things, we see a great way to collaborate that benefits our company, UNM and the economic development of the state."
To boost that collaboration, Halasz not only funded the Vizzia Internet of Things lab but also made another investment in 2020 to hire a full-time lab manager, Andreas Stavropoulos. 
Halasz said the lab has two main goals.
"One is to give back to the community — Albuquerque and New Mexico — by developing a technology center of excellence that attracts UNM students. Also, the lab provides valuable testing data on our sensors for Vizzia customers, and we provide that feedback to our industry partners."
Halasz said the Vizzia IoT Lab at UNM — which has tested a wide variety of technologies from private and publicly-traded manufacturers from all over the world — is a win for the university, economic development and his business. He notes that since Vizzia is not a testing company, the data that UNM students uncover will be invaluable to his company and its customers.
"We'll be producing well-trained, experienced students who can provide Vizzia with data that will help our customers, and in turn, there will be other companies in the IoT industry that will want to use our lab, which will create more opportunities for students, boost UNM's IoT program and advance the industry."
And with the pandemic, Halasz said that the services Vizzia provides are more in demand than ever. "The need for services in the healthcare system was growing double digits event before COVID, so the value we offer our customers has continued to be incredibly high." 
Stavropoulos said starting his job managing the lab just as the COVID pandemic was starting was challenging, but they have continued to work with students on research, either remotely or by limited interactions in person in the lab as conditions permitted. Currently, the Vizzia IoT Lab has about a handful of students from the electrical and computer engineering, and computer science.
Stavropoulos comes to academia from a background in earth and geosciences with an environmental, engineering and design focus, so he brings a new perspective to the lab. "I found my way into IoT and healthcare. I think it helps to have knowledge of a lot of different subjects when tackling these problems."
He said he is eager to develop solutions and work with students in the lab as it gets in full swing this fall. "I love working with students and always feel engaged on campus. It's a very good match for me."