Martínez-Ramón Recognized for Outstanding Mentorship
Martínez-Ramón Recognized for Outstanding Mentorship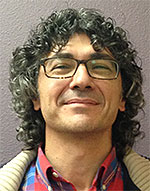 ECE Prof Manel Martinez-Ramon is one of two New Mexico professors selected for this year's NM EPSCoR Mentor Award.
Dr. Martinez-Ramon was nominated by mentees and demonstrated characteristics of exceptional mentors, including strong professional and interpersonal relationships; working to advance their mentees' academic, research, and professional goals; and creating inclusive environments for diverse students. 
Dr. Martínez-Ramón is the King Felipe VI Endowed Chair and professor in the Department of Electrical and Computer Engineering at The University of New Mexico, and a member of the NM SMART Grid Center Decision Support Research Group. Five different mentees nominated Dr. Martínez-Ramón. 
One mentee cited Dr. Martínez-Ramón's authentic commitment to their success, "Manel has been a great mentor. As an advisor he naturally spreads his passion for research to his students. He is extremely encouraging and patient. He not only gives brilliant technical advice and guidance but also is honestly interested in the research interest and professional developments of his students."   
Another referenced his ability to give supportive constructive feedback, "Professor Manel is someone who goes beyond the limits of a teacher-student relationship to help his students succeed in work and school. He is very patient and listens to the concerns and questions of his students regarding their classes and research. Criticism is a necessary part of the learning process, but as a skilled mentor professor Manel can deliver criticism in a way that lets his students know that the feedback is constructive, not personal."
This approach to feedback is a very intentional aspect of Dr. Martínez-Ramón's mentorship strategy. In his mentorship statement he explains, "I apply positive reinforcement in my relationship with my students. As humans, students are vulnerable, they have limited energy and their enthusiasm and motivation comes and goes, and sometimes they just need to rest, to restart, or to be heard, not to be judged...Just being nominated by my students is a reason of pride. If I get the award, this will be a great honor for me."
Many thanks to Brittney Van Der Werff at the UNM Newsroom for sharing this story with ECE!