ECE Web Page Features New PhDs
ECE Web Page Features New PhDs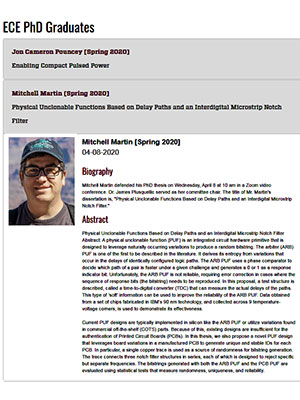 A new web page located within the ECE website spotlights our recent PhDs and their dissertations. But this page might also be their ticket to further success.
Associate Chair Marios Pattichis worked with Sr Academic Advisor Yvone' Nelson to create a place on the ECE website where Ph.D. graduates can place their biography, a photograph, their abstract, and (when available), a link to the UNM Digital Repository.
"This web page provides prospective graduate students with snapshots of active research in the department. It also helps us celebrate our graduates," said Pattichis. "Attaining a PhD is a great personal achievement that should be recognized!"
Visitors to the new ECE website could be looking to hire our graduates and might need additional information to make a final decision.
Or they might be members of the media who need a good photograph to download for a story about our recent graduates.
Or they might be members of an awards committee who want to learn more about a nominee.
The ECE Graduate Page is constructed in such a way that all the graduates are listed within an "accordion" that opens up when a name is clicked. This saves space and makes the page easier to navigate and take in at a glance. The coding for this ingenious page was developed by our friends at UNM Communications and Marketing.
But the importance of this web page goes way beyond being just an academic hall of fame.
Because of the nature of the World Wide Web, our Ph.D. graduates can be found whenever anybody happens to insert one of our graduates' names into a google search engine.
Google uses software known as web crawlers to discover publicly available webpages. And because the ECE has a high ranking among websites, there is an excellent chance that our graduates, and their accomplishments will show up as a search result.
"Crawlers look at webpages and follow links on those pages, much like you would if you were browsing content on the web. They go from link to link and bring data about those webpages back to Google's servers," said a member of the Google Search Team.
This means that our recent ECE graduates will not only have their academic accomplishments readily accessible, but they also have the option to include information about their lives that go way beyond academia.