Aswathy Rajendra Kurup Defends PhD July 7
Aswathy Rajendra Kurup Defends PhD July 7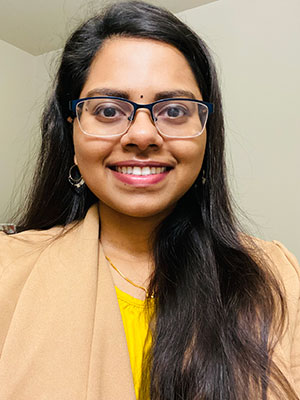 ECE student Aswathy Rajendra Kurup will defend her dissertation "Combinatorial CNN meta-structures in deep learning applications" in an open Zoom meeting chaired by Dr. Manel Martinez-Ramon on Wed, July 7 at 11 am.
For those who would like to view the defense in the audience, please make note of the following login information:
https://unm.zoom.us/j/5190047440
Meeting ID: 519 004 7440
Passcode: 1234
Here is the abstract for Ms Kurup's defense: 
Abstract:
The study aims in applying combinatorial structures motivated from the basic CNN in various applications. Convolutional neural networks (CNNs) have grown to be very popular in the field of deep learning. The ability of such networks to learn both Spatial and temporal characteristics in the data have helped in deploying them in various fields. Through this research we explore different kinds of CNN-derived architectures and how these structures can be trained and setup in combinatorial environment to solve problems in deep learning applications.   
First, we introduce the basic idea of a deep learning meta-structures which is used in the application of facial expression recognition. Next, we investigate CNN meta-structures in detail in the application of Super-resolution. Further, the analysis of different combinatorial models containing CNN meta-structures and machine learning approaches are studied in detail for two different applications.
The first application is a medical imaging application for detecting Malarial retinopathy with high specificity and second is for developing an adaptive protection scheme to detect faults and topology change in distribution systems. Overall, the proposed work investigates the analysis of meta-structures derived from basic CNNs arranged in different combinations.