Are You a Hungry Lobo? Read this!
Are You a Hungry Lobo? Read this!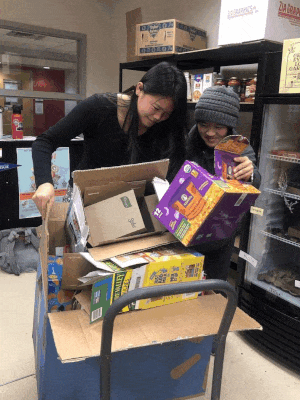 The Lobo Food Pantry welcomes all currently enrolled (and needy) Lobos to pick up free groceries and toiletries in room 1093 of the Student Union Building.
The Campus Lobo Food Pantry is a 100% free resource to currently enrolled UNM students. The pantry is run 100% on donations primarily from the UNM community, alumni, Albuquerque community and Roadrunner Food Bank.
Since introducing refrigeration in the Summer of 2022, the Lobo Food Pantry now offers perishable, non-perishable and toiletry items. The Lobo Food Pantry is located in the Student Union Building on Main Campus in room 1093 (first floor across from the computer lab).
In order to shop, students must bring their student ID or a valid ID and their UNM ID number. Bags in the pantry are also donated so students should bring their own bag in the case that the pantry is out of bags.
Students are allowed to visit the pantry once a day, every day that the pantry is open. The daily limit for students is either a full shopping basket OR 10.0 lbs., whichever the students meet first. The pantry is open Monday - Thursday 11 AM - 5 PM. 
The pantry is closed on Fridays to restock and receive donations. If you would like to make a donation, please contact Amanda Martinez at amartinez95@unm.edu to schedule a donation time Monday - Friday between 9am and 4pm.
The pantry accepts all unopened, unexpired, and in good condition donations. Ideal donations are individually wrapped and do not exceed 5 lbs. per item. For a detailed donation list, please visit the LoboRESPECT Advocacy Center website. Additionally, donors can make an online monetary contribution, as well as select items from the Amazon Wishlist.
Information for these options is provided on the LoboRESPECT Advocacy Center website as well.
For more information, please refer to the official poster below: