Jayaweera Delivers IEEE ComSoc-SL Keynote on 5G and Artificial Intelligence
Jayaweera Delivers IEEE ComSoc-SL Keynote on 5G and Artificial Intelligence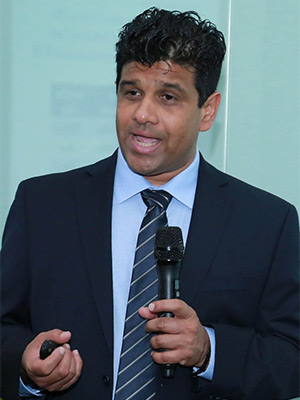 ECE Prof. Sudharman K. Jayaweera delivered the keynote speech at the IEEE ComSoc-SL Tech Meetup held on Dec 12, 2019 at the Mobitel Innovation Center, Trace City, Sri Lanka.
The Keynote Speech was entitled "5G on the Horizon: AI in the Air."
A panel discussion on "The Next Decade of the Telecommunications Industry in Sri Lanka with 5G in the Horizon" followed the keynote.
Born in Matara, Sri Lanka, Dr. Jayaweera was a science journalist before pursuing engineering. He joined the faculty at ECE in 2006 after completing his PhD at Princeton University.
In recent years, his research has been focused on the notion of autonomous and wideband cognitive radios called Radiobots. Such radios may have the ability to interpret and self-adapt to any RF environment, over a wide spectrum range, to best fulfill the user performance objectives.
Jayaweera has published more than 150 journal and conference papers in machine learning, wireless communications, signal processing and information theory with over 3800 citations and four best paper awards at IEEE international conferences with the most recent one being at the 2019 CrownCom conference
He is also the author of the 2014 Wiley book titled "Signal Processing for Cognitive Radios". He has been awarded fellowships at National Institute of Aviation Research (NIAR), Air Force Research Laboratory (AFRL) and National Research Council (NRC – Senior Fellow).
Currently, Dr. Jayaweera serves as an Editor of IEEE Transactions in Wireless Communications. He is a senior member of IEEE.