Help Support UNM's Free City Bus Pass Program!
Help Support UNM's Free City Bus Pass Program!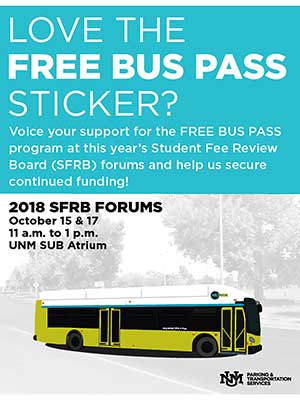 UNM Parking & Transportation is asking city bus-riding students, faculty and staff to attend a meeting in the SUB atrium on Monday, Oct 15 and Wednesday, Oct 17 from 11 am to 1 pm to show your support for UNM's free bus pass program.
The University of New Mexico has been offering free bus rides to UNM students and faculty and staff for over 10 years. This little perk helps save riders the price of a yearly bus pass, which is currently valued at $225 if purchased straight from the city (as well as an additional $8,000 a year in gas, maintenance and insurance.)
The ABQRide Free Bus Pass Program began in 2008 for UNM students and was expanded to include staff and faculty the following year. Students, staff, and faculty ride the bus for free a million times a year!
The ABQ RIDE Bus Sticker program receives 50% funding from Student Activity fees, while PATS pays the other 50%. PATS submitted an application that included approximately 165 letters of support received from UNM students to the Student Fee Review Board (SFRB), requesting another year of SFRB funding for this important program.
If you are one of the many who use the ABQ RIDE Free Bus Sticker program, whether daily or on occasion, please make your voice heard at the SFRB forums that are being held in the SUB Atrium from 11 a.m. to 1 p.m. on Monday, Oct. 15 and Wednesday, Oct. 17.
Please voice your support for the ABQ Ride Bus Sticker Program. This is an opportunity to engage with your representatives on the SFRB and share the positive impact the Free Bus Sticker program has had on your college experience. Your presence at the SFRB forum(s), along with your letters of support, will help ensure the success of PATS' application for $50,000 in the next round of SFRB funding.
Please click this sentence to view the official PATS "Love the Free Bus Pass Sticker?" Poster!