GSA Wants Your Paper Submissions Now!
GSA Wants Your Paper Submissions Now!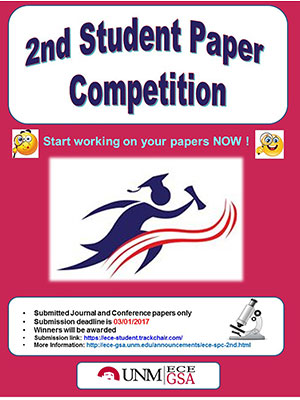 ECE's Graduate Students Association (GSA) announced that they are holding their "2nd Student Paper Competition" and they want you to submit your manuscript by March 1.
If you have submitted a paper to a journal or a conference during the last year, the GSA wants to know!
Our friends at GSA are practically begging you to send that paper(s) to them so that they can read it and maybe, just maybe, give you an award!
All you have to do is submit your journal or conference paper to the address here: https://ece-student.trackchair.com/
This year you will have the option to submit your article to one of 13 tracks. And don't worry if you're not sure which path is correct because a judge will move your paper to another track if he or she feels it is appropriate!
Mustafa Al-Mashhadani, a software developer and research assistant at the Institute of Design & Innovation at UNM is a principle manager of this competition. 
Please click this sentence to learn more about the competition!

. . . . and please click here to see the official poster of the competition!