Get a Job! (The Easy Way)
Get a Job! (The Easy Way)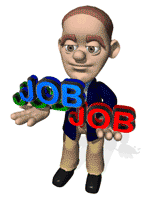 ECE has recently partnered with UNM Office of Career Services to help you find the job of your dreams. Our revamped internship and job page has hundreds of great jobs waiting for you!
The "Lobo Career Connection" is a new job-locating service, designed especially for UNM students, faculty/staff, alumni and community members. The jobs listings have been filtered specifically for engineers. You can also submit your resume into a database so that UNM-approved prospective employers can read about you and — if they're interested — make contact and offer you a job!
The Office of Career Services carefully studies and approves ALL job listings and welcomes you to contact them if you are looking for work or need job-related counseling.