SOE Announces ECE Winners!
SOE Announces ECE Winners!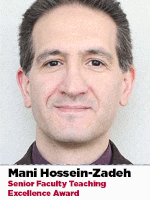 The School of Engineering honored outstanding students, faculty and staff during its annual awards ceremony at 2:30 p.m. on Thursday (May 3) in Centennial Engineering Center.
The awards ceremony was held in the auditorium, followed by a reception in Stamm Commons.
Honorees were presented with the awards by the dean and their respective department heads.
The winners from ECE are as follows:
Kavin Kullama — Outstanding Sophomore
Benjamin Reichelt — Outstanding Junior
Loic Djamen Tchapda — Outstanding Senior
Divya Jangili — Outstanding Graduate Student
Dr. Mani Hossein-Zadeh — Outstanding Senior Faculty Teaching Award
Please click the linked names below to learn more about the winners from ECE!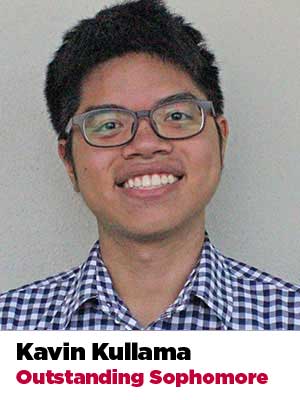 Kavin Kullama is one of ECE's top Computer Engineering students with a cumulative GPA of 4.23. During his time in Thailand, Kavin has participated in several Mathematics and Physics competition in Thailand and has received award for doing well in the competition. He is currently retired from taking any competition in order to pursue his career. He has been supported by his entire family who encouraged him to study abroad. He would like to express his gratitude back to his family one day. During his free time, Kavin enjoys his favorite video games. He also frequently solves advance-level Mathematics and Physics problems. Occasionally, he practices programming and applies it to Mathematics and Physics as well. Kavin will be continuing his junior year in the University of New Mexico in Albuquerque, New Mexico next fall to pursue a B.S. degree in Computer Engineering.
Ben Reichelt is pursuing a dual degree in electrical engineering and physics. He has been a top student in both departments, with a cumulative GPA of 4.28 and several awards. For the past 5 years, Benjamin Reichelt has worked at Los Alamos National Labs. There, he has developed simulations of materials under explosive conditions, designed explosive experiments, and done many other things involving explosions. He is also currently working at the UNM plasma physics laboratory conducting research under Professor Mark Gilmore. When he has the time, Ben enjoys hiking with his dogs, metalworking, amateur bartending, and rock climbing.
His weaknesses include sour cream and onion potato chips and writing lists of accolades that his mother deems sufficiently boastful.
At the moment, Ben is planning to go to grad school to study plasma physics after he graduates.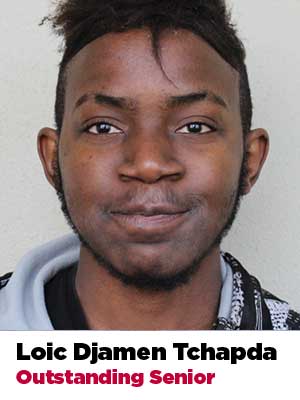 Loic Djamen is an electrical Engineering student with a cumulative GPA of 4.2. Having grown up in Cameroon, he moved to Albuquerque in order to attend UNM, as part of a grander plan to make change around him. Over the last four years, Loic developed great curiosity in Engineering through research in nanoscience and materials' characterization at CHTM. Later, he had the opportunity to help as an undergraduate research assistant in the ECE Department in the plasma science laboratory. Loic is currently interested in Hardware and electronic design as well as FPGA-based high performance computing. During his free time, he likes outdoor sports like soccer (real football), basketball, or volleyball. However, he would usually and sadly have more homework to do. He also likes sleeping but that does not always work out either. Loic is planning on first pursuing a professional Engineering career and later get a Master's Degree in the field that will have caught his interest the most. Finally he wants to thank his parents, the ECE faculty, and God for this award and opportunity to get an Engineering degree.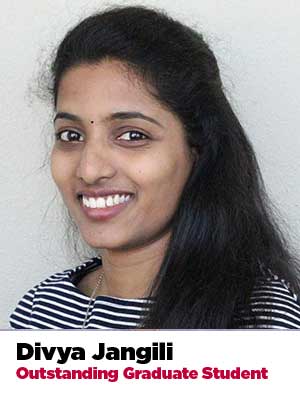 Divya Jangili is a Computer Engineering Master student with a cumulative GPA of 4.11. She has worked as a Quality analysis tester at Accenture, one of the top fortune 500 companies. She has also worked as a "People Project Advocate", where she used to manage project team building activities and conduct knowledge transfer sessions to new joiners. Divya Jangili has received the Star Performance award for her outstanding work and contribution in Accenture. Divya Jangili is currently working as a Research assistant at UNM innovation and design where they develop applications for degree plans of many universities, which guides the students to a 4-year graduation program allows the universities to track student success rate. Also, Divya Jangili is working as a software developer for curricular analytics application that helps the universities to analyze their curriculum efficiency just by visualization — and comparing their curriculum with another curriculum. During her leisure time, Divya Jangili engages in crafting and loves to do paper crafts. Within 5 years Divya Jangili would like to see herself having in-depth knowledge of the latest technologies and wants to be a Lead full stack developer.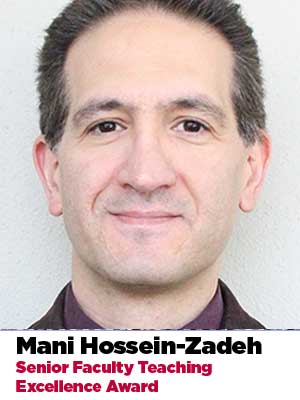 Professor Hossein-Zadeh received the B.S. and M.S. degrees in Physics from Sharif University of Technology in IRAN. He continued his studies at the University of Southern California where he received a second MS in 2001 and his Ph.D degree in Electrical Engineering-Electrophysics in 2005. After three years of postdoctoral research at California Institute of Technology, in 2008 he joined UNM's ECE department as an assistant professor. Mani has taught 9 different courses including three undergraduate core courses, four graduate core courses that are included in ECE and Optical Science and Engineering's qualification exams and two new interdisciplinary courses. His teaching evaluations clearly indicate his excellent performance in all these courses and he received ECE's "outstanding teacher award" as a junior faculty. Mani was also the co-PI of an NSF educational grant focused on introducing ECE undergraduate students to nanotechnology. In addition to teaching, Mani has been an active researcher at the Center for High Technology Materials and is the recipient of the NSF CAREER award.
(In addition to the student award winners, we have learned that Professor Mani Hossein-Zadeh has won ECE's Senior Faculty Teaching Award. This award recognizes "superior accomplishments and service to The School of Engineering" and consists of a plaque and a check for $2000).
Please click this sentence to see a full list of all the winners!