A Floor So Bright, You Gotta Wear Shades
A Floor So Bright, You Gotta Wear Shades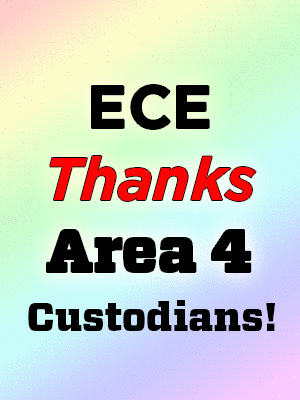 The ECE lobby recently got a dazzling facelift from UNM's Area 4 Physical Plant's custodial crew, headed by Sandra Gonzales.
After four days of intense preparation and labor, the five-person team managed to strip off years of dirt and grime from the atrium's 1500 sq ft of red terracotta tile. A glistening layer of shine was then applied, leaving a floor so bright, you "gotta wear shades."
"The atrium of ECE is the center of the student's universe because everyone gathers there," said ECE administrative assistant Susana Perez.
"The students study together here, they have meetings, they have parties and sometimes they just sit there and relax. The lobby is warm and inviting because our cleaning crew really cares about ECE. I know when I arrive at work everything will be in tip-top shape!" said Perez.
ECE building manager, David Modisette, could barely contain his excitement.
"The custodial staff, under the leadership of Sandra Gonzales, has really outdone themselves with the latest cleaning and waxing of the ECE atrium floor. From the third floor overlook it appears as a deep ruby pool glistening in the deep cavern of Kubla Khan's poem."
And research professor Jerald Buchenauer had this to say: "From the front entrance of ECE, it looks like the blood red floor is covered by a thin sheet of crystal clear ice."
ECE is thankful for the hard work of Kirsten Nielsen, Isaiah Apodaca, Sandra Gonzalez, Jacob Montoya and Blanca Mata for keeping the ECE atrium a clean, beautiful sanctuary for our students.
A refurbished floor is just one of the many improvements that ECE has seen recently. Coming soon is a brand new roof that will hopefully protect ECE from the summer monsoons!