Olga  Lavrova
Contact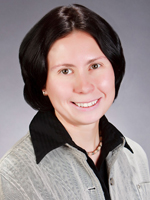 Adjunct Professor
Department of Electrical and Computer Engineering
Education
Ph.D., University of California at Santa Barbara, 1997- 2001 Major: Electrical Engineering, Area: Optoelectronic and Semiconductor Lasers. Thesis Topic: "Widely Tunable Multisection Lasers for Dense WDM applications"
M.Sc, A.F. Ioffe Physics Technical Institute, Russia and University College London, UK, 1994-1997 Major: Electrical Engineering Thesis Topic: "Fiber Bragg Grating External Cavity Laser (ECL) for WDM applications
B.Sc (Summa Cum Laude), St. Petersburg Electrical Technical University, Russia 1992-1994 Major: Physics
Biography
Dr Lavrova's research interests include photovoltaics and other emerging renewable energy technologies, as well as nano-scale semiconductor structures and their applications.  Being a member of the Power and Energy group at the ECE Department, Dr. Lavrova's research interests include photovoltaics and nano-scale semiconductor structures for photovoltaic applications, as well as Smart Grid and emerging energy generation, distribution and storage technologies.
Dr. Lavrova is a PI and co-PI on several research projects (funded by DOE, NSF and EPRI) that aim at the development of  novel photovoltaic materials, energy management and storage technologies.  Dr. Lavrova currently teaches several undergraduate and graduate-level classes that concentrate on power, power generation and distribution.  Dr. Lavrova is the engineering faculty advisor for the UNM-ASU Solar Decathlon team (www.asunm.org), and is also heading the development and construction of the Solar Car at UNM (http://www.ece.unm.edu/solarcar). 
Teaching Interests
Photovoltaics
Power Electronics
Smart Grid and Power Systems
Research Interests
Photovoltaics
Smart Grid
Renewable Energy
Power and Energy
Center/Laboratory/Program Affiliations